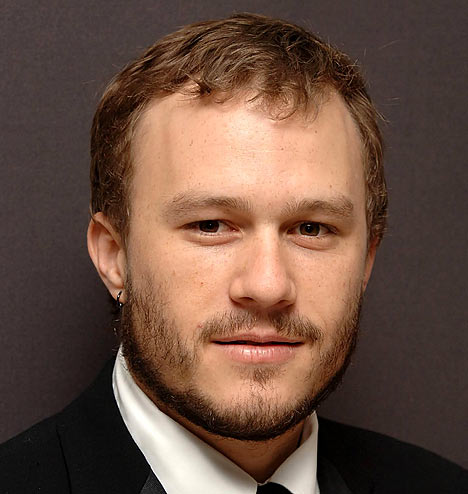 LOOKING BACK
The Sadness Of Loss Marked The Film Year In 2008
By Omar P.L. Moore/The Popcorn Reel
December 23, 2008

(Updated)

The year on the big screen in 2008 will be most memorable not for many of the more than 575 films released in North America -- it was hardly a year of good quality for silver screen celluloid -- it will be remembered in a somber way for the number of people in the film industry who passed away. There were very few dry eyes for Hollywood for much of the year that was 2008. Heath Ledger succumbed to an overdose of sleeping pills in January, at just 28 years of age, and less than seven months later would jar movie audiences with a tower portrayal of menace as The Joker in the spectacular "The Dark Knight", which made over $527 million in the U.S. and Canada. By year's end Mr. Ledger had posthumously garnered acting nominations for the performance but you couldn't help feel the pall that had been cast by the gone-too-soon shock of his passing.

One of the last great American acting titans, Paul Newman, said goodbye in September, and his loss was like that of Katharine Hepburn a few years back. Charlton Heston, he of "Ten Commandments", "Ben Hur" and "Bowling For Columbine" fame, exited, as did Cyd Charisse. Stan Winston, the special effects master for countless films including "Terminator 2: Judgment Day", passed. Comedian and actor George Carlin also left us for the blue yonder in June, as did fellow comedian and actor Bernie Mac in August, with actor-musician Isaac Hayes departing barely 24 hours after Mr. Mac did. The latter two appeared together in "Soul Men", a film that had an eerie refrain for Mr. Mac's character.

Literary legends like Arthur C. Clarke (who wrote the visionary book that would be the vital template for Stanley Kubrick's film "2001: A Space Odyssey") and Michael Crichton (who wrote novels including "Disclosure" and "Rising Sun" that would be adapted to the big screen) bid farewell, as did Bettie Page, the 1950's pin-up star whose life was made into the 2006 film "The Notorious Bettie Page". (A documentary film by Mark Mori on Ms. Page will be released next fall.) In a tragic set of circumstances, Oscar winner Jennifer Hudson lost three members of her family including her mother and younger brother. Anthony Minghella, director of films like "The English Patient" and "The Talented Mr. Ripley" and a prolific producer, died, as did Sydney Pollack, who produced, directed and acted in many films including his own films such as Oscar-winning "Tootsie" and "The Firm", with appearances in "Eyes Wide Shut" and last year's Oscar winning film "Michael Clayton", among many others.

There were actors as diverse as Richard Widmark, Brad Renfro, Roy Scheider ("Jaws"), Van Johnson, Suzanne Pleshette, Harvey Korman ("Blazing Saddles"), Estelle Reiner (Rob Reiner's mother, who so memorably said the words "I'll have what she's having" after Meg Ryan's orgasmic ecstasy in Mr. Reiner's "When Harry Met Sally"), Ivan Dixon, the legendary Eartha Kitt, playwright Harold Pinter, "To Kill A Mockingbird" film director Robert Mulligan and many more, including actor/voiceover legend Don LaFontaine who also exited stage left. Voiceovers in trailers will not be the same without his.

Every year millions of people known to many or to a relative few in the world die, including a few in the filmmaking business. It is a tragedy all the way around, and it seemed that in 2008, the losses were just a little more stunning and saddening.


Hollywood films were at a loss as well due to the writers' strike that crippled a significant chunk of film (and television) production in 2008 and stopped the 65th Annual Golden Globes dead in its tracks, with the Awards being hosted by six television entertainment anchors/reporters and all the awards being handed out in just about an hour in a no-frills way. Will Smith was at a loss as well -- or at least audiences were mystified by two of his poorest films, which just happened to come from Sony Pictures within the space of just over five months in 2008 -- "Hancock" and the dreadful "Seven Pounds". There were other woeful films from Sony, which for the second year in a row has the worst film of the year ("88 Minutes", followed by "Vantage Point" and "You Don't Mess With The Zohan".) Other studios have to share in the misery with the following turkeys: "The Love Guru" (Dreamworks), "What Happens In Vegas" (Fox), "Welcome Home Roscoe Jenkins" and "The Mummy: Tomb Of The Dragon Emperor" (both Universal). Warner Brothers managed to stay off the list of bad films.

On the plus side, "Slumdog Millionaire" was simply the best film of 2008. In a year dominated by superhero flicks, "The Dark Knight" stood head and shoulders above the rest, but "The Incredible Hulk" was not nearly as bad as it could have been -- say, like Ang Lee's atrocious "Hulk" of 2003. "Iron Man" was an impressive film, breaking new ground for a charismatic American superhero content with the simpler things, say cheeseburgers. Robert Downey, Jr., who had the best year he's ever had in film as Tony Stark/Iron Man and it was a great performance, and he also tried on the dreaded blackface and wowed critics in the process as a method actor going deep, deep method in "Tropic Thunder", the same film in which Tom Cruise had the most hilarious cameo of the year as a movie producer. Mr. Cruise also played a real-life German Resistance army leader in a plot to assassinate Hitler in "Valkyrie", while celebrating 27 years in the film industry as an actor. For the second year running Josh Brolin was an actor to watch playing two despised figures in American history, as the 43rd president of the U.S. in Oliver Stone's "W." and as 1978 San Francisco Board of Supervisors assassin Dan White in Gus Van Sant's "Milk", for which he is as likely as Sean Penn to receive an Oscar nomination in January. Jeffrey Wright was an October-November-December man, as he starred in the following films in each of those months respectively: "W.", "Quantum Of Solace" and "Cadillac Records". Honorable mentions to "The Bank Job", "Recount" (made for HBO), "Body Of War", "Free For All!", "Gonzo", "Chicago 10", "Taxi To The Dark Side", "Young@Heart", "Snow Angels", "Cadillac Records" and "Choke".






The film year was one of comebacks, with Karen Allen returning to the big screen in the Indiana Jones franchise for the first time in 27 years in "Indiana Jones And The Kingdom Of The Crystal Skull", and Harrison Ford donning the fedora hat after 19 years between Indy films. Four years after the television series ended for good, the female foursome hit the big screen for the movie version of "Sex And The City", which featured a close up of a penis. (Anything to pack them in at the box office.) The film didn't work so well, but the ladies (and some men) kept coming back. Traci Lords finally made fun of the Traci Lords of 20-plus years ago in "Zack And Miri Make A Porno", while the "Sisterhood Of The Traveling Pants" returned after three years away, although not as triumphantly film-wise as in the past. Vanessa Del Rio and Jennifer Coolidge made cameo appearances in "Soul Men". "Star Wars" returned, but in animated form, directed by Dave Filoni. It had been 13 years since both Robert De Niro and Al Pacino shared a scene together in a film ("Heat") and Jon Avnet put them together in almost every minute of "Righteous Kill" but it proved to be overkill, as did the film itself. Mr. Avnet directed two poor films starring Mr. Pacino, the other being the worst of all films released this year "88 Minutes".) Mickey Rourke however, had the biggest return to film with his superb work in "The Wrestler", for which he will certainly be Oscar-nominated. There was no "Doubt" about Viola Davis' command of the big screen in John Patrick Shanley's film, for she outshone Meryl Streep in one memorable scene, which is extraordinarily hard to do. Ms. Davis will definitely receive an Oscar nomination for the supporting role.

New York directors Woody Allen kept directing ("Vicky Cristina Barcelona") as did Spike Lee ("Miracle At St. Anna"), with Martin Scorsese chronicling one of his first loves The Rolling Stones in "Shine A Light". Steven Soderbergh directed the four-hour and 17 minute epic "Che", while David Fincher fumbled on "Benjamin Button", a nightmare exercise in screenwriting (Eric Roth) and cliches echoing "Forrest Gump". Brad Pitt didn't fare badly in the film, but he did better in the Coen Brothers' "Burn After Reading", in which he starred alongside Tilda Swinton, with whom he reunited in "Benjamin Button". Mark Ruffalo put his hands where his eyes couldn't see in "Blindness", while Woody Harrelson was blind in "Seven Pounds". There were blinding, eye-popping dresses in "27 Dresses", which reminds me that "Rachel Getting Married" got Anne Hathaway a hatful of award nominations. (Ms. Hathaway, who dumped her indicted boyfriend earlier this year, will be wearing more dresses on the big screen in "Bride Wars" early in January 2009.)

It seemed that Samuel L. Jackson played evil in three out of every four films this year: a cop gone ballistic ("Lakeview Terrace"), as a jumper ("Jumper") and as an Octopus ("The Spirit"). At least he had a soul in "Soul Men". Don Cheadle played a traitor (or was he?) in "Traitor", while Malcolm Lee directed both "Roscoe Jenkins" and "Soul Men" (a film mentioned at least three other times here). In terms of fun during a political election year in 2008, several actors got to skewer politicians and news personalities, with "Baby Mama"'s comedic actors Tina Fey and Amy Poehler impersonating Alaska governor Sarah Palin and soon-to-be former Senator Hillary Rodham Clinton on NBC television's "Saturday Night Live". Ms. Poehler became a mother offscreen, giving birth in November. Ben Affleck spoofed Keith Olbermann and delivered laughs aplenty. Speaking of NBC, Tim Russert wasn't a movie star but he interviewed a few of them as well as appeared as the political newsman and questioner that he was in several films over the years. He passed unexpectedly in June.

It is hard to know who in Hollywood had a bigger year than Kate Winslet and Clint Eastwood. Ms. Winslet was outstanding in two films, the excellent "The Reader" and "Revolutionary Road", either of which she will definitely win an Oscar, while Mr. Eastwood directed two very good films (especially "Changeling", and "Gran Torino") and will surely win either a best actor Oscar ("Gran Torino") or a third directing Oscar ("Changeling").

Twenty-three films as of the date of this piece crossed the $100 million mark at the U.S.-Canada box office, including "Quantum Of Solace", the first direct sequel to a James Bond film. "Twilight" also moved past the mark, even as critics generally panned the film -- and a sequel is on the way in late 2009.

And as this year closes, the lack of dry eyes for departed filmmakers, producers and performers in Hollywood extended to the films themselves, with "Seven Pounds", "Benjamin Button", "The Reader", "Revolutionary Road", "Marley & Me", "Gran Torino" and "The Wrestler".

Overall, when Robert De Niro's Max Cady whispered in "Cape Fear" in 1991 that "you're gonna learn about loss", he may have unsentimentally been referring to 2008.

Above photos of just a few of the departed in 2008 (from top left): Bernie Mac, Paul Newman, Heath Ledger. (Center of page): Cyd Charisse, Sydney Pollack, Isaac Hayes.

Related: The Ten Best Films of 2008

Copyright The Popcorn Reel. PopcornReel.com. 2008. All Rights Reserved.
printer friendly